Beneficiaries in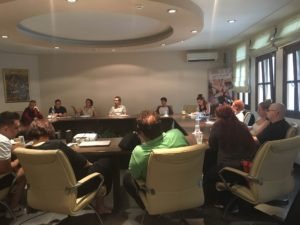 Kilkis had the opportunity to discuss their innovative business ideas in the frame of the 2nd networking event which took place at Eteak Kilkis on Tuesday 16th of July 2019 at 17:00.
Mr. Arabatzis, Developer at Kleeman SA and Mr. Dimitrakopoulos, Developer at Elvial SA discussed with participants all aspects of software development requirements.
The purpose of the networking event was to act as a catalyst and meeting hub for the beneficiaries with young scientists and experts related to their innovative idea in order to exchange views, experiences and reflections, giving directions that will give a boost in the development of business synergies.
The beneficiaries participating in the "Entrepreneurship Nest" had the opportunity to communicate their ideas with the two experts, to exchange views and discuss with them practical issues towards the development of their business ideas.